Today I got so fed-up of telling the boys a hundredth time to pick up their toys that I started scolding and threatening.
This is nothing new to the boys. They know when Mommy has had it up to her eyeballs, they better do as they are told.
BUT...
Today, I was actually scolding Max who has dumped his basketful of cars all over the main walk way, a bunch of kids' DIY of rubber nuts, and plastic parts all over the TV area and he was ignoring me, pulling a tractor and truck along with a piece of string.
Micah had taken the cue quite quickly and had picked up his Lego blocks from the floor.
I was still scolding and started putting some of Max's toy cars into a plastic bag:
"Max, you don't want to take care of your toys, I'm giving these to children who don't have toys to play with."
"NO. I want. I want." He called back, but not seriously picking up his toys.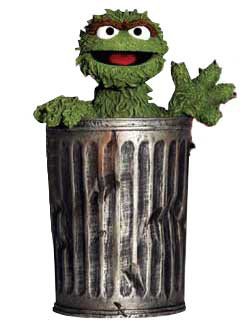 Micah observed us from the sofa, then said,
"Mommy. You are grouchy. Like the green monster in Elmo's World."
I was actually amused that he made that link. I made the conscious effort not to smile.
But I just explained sternly bout why Mommy's is now the Grouch....
After that was dinner time...and the grouch had left the room.
Mommy was feeding them chicken rice.